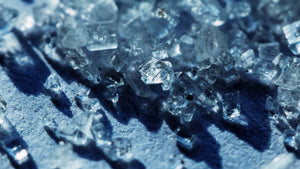 FAQ
Why are there sugar crystals?
Often times we get the question, "Why when I open a jar of jam there's sugar crystals already?" and also, "If I've opened the jar and I've only used it for a week or two and there's sugar crystals forming, why is that?" 
Lets address the first question. If you open your jar of jam and there's already crystals formed, more than likely we have too much sugar in the recipe already. This shows there's not enough liquid available to keep the sugar hydrated.
For the second question. If we opened the jar of jam, started using it, a week or two goes by and crystallization starts happening; that's faster than what it normally should. Eventually all jam and jelly, if left in the refrigerator long enough, the hydrated crystals will form. One to two weeks is too quick and more than likely again as the first question, there is too much sugar in the recipe.
---